February 23, 2008
Song Mysteries: Ladies and Dream Weavers
Growing up listening to 70's and 80's music, I'm often amazed at how many song lyrics my brain has indexed. Although my wife and kids have never complained (to me anyway), I'm sure I drive my family crazy singing along to song after song. I've long been guilty of taking anything in any conversation, shuffling it through the songs in my brain, and if there is even the slightest of matches, segueing it to a song lyric. Just typing this makes me annoyed at myself!
There are two 70's songs that I have wondered about for many years. I am certain that I have heard two different versions of:
"Dream Weaver" by Gary Wright
"Lady" by Styx
What's unique about these differences is just one word in each song (in italics below):
"I've just closed my eyes again"
vs
"I have just closed my eyes again"
"Touch me and my troubles all fade"
vs
"Just touch me and my troubles all fade"
I've always thought that because Styx had a nasty breakup that "Lady" was re-recorded by one of the jilted parties for financial purposes. I just discovered that Styx actually re-recorded "Lady" when they reunited in 1995 (only to split again not long after this). I'm not sure I understand why you'd re-record a classic song like that. I'm equally confused by re-recording it and changing just one word. Was this intentional?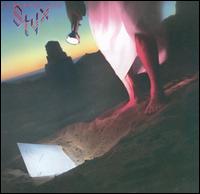 I still can't help but think about how Tommy Shaw has referred to Styx's "First Time" (a sappy Dennis DeYoung ballad he was able to get on Styx's fine Cornerstone album) basically as the beginning of the end for the band. A good song perhaps for Andy Gibb – I have to side with Tommy on this since it was just hard to hear "First Time" after the hard rocking "Renegade" or "Miss America". At the same time, in 1979 at the age of 14, I didn't mind it being non-rocking since I recall getting to couple skate at the roller rink to "First Time" with a popular girl named Betsy from a rival school. I was the king of the world for 4 minutes and 24 seconds! Later, I remember finding out she didn't kiss very well.
As for 1976's classic Dream Weaver, I'm convinced I've heard two versions with the one-word difference mentioned above. I've not been able to find out why. By the way, speaking of the Dream Weaver album, one of my favorite 70's songs is also on the Weaver disc: "My Love Is Alive". I loved it in the 80's too when Chaka Khan covered it and made it into an awesome, thumping 80's night club mix.
If anyone knows anything about the alternate versions of these songs, I would love to hear it! Maybe Gary Wright will read this and chime in.
For my music pals, here are the two beloved versions of "My Love Is Alive":

Gary Wright
Chaka Khan
Check out the live performance of "My Love Is Alive" on the Midnight Special below. This is quite a discovery since it's an amazing display of keytar skill and I'm betting Will Ferrell took cowbell lessons from Gary's background singer! Man, she is really playing that cowbell.
[youtube=http://youtube.com/watch?v=wCc7XJRDD74]
—————-
Listening to: Kansas – Carry On Wayward Son
—————-
Listening to: Kansas – The Pinnacle
—————-
Listening to: Jon Anderson – Hurry Home (Song From The Pleiades)
Search Articles