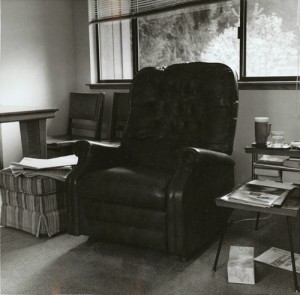 June 10, 2015
Father's Chair
To say parenting isn't easy would be putting it lightly. I think it's normal to have times of doubt about how you're doing as a parent. Just like our kids, parenting is also a work in progress.
I had my Dad through my difficult teen years. I realize that was a blessing when I hear a song like My Father's Chair about a boy that perhaps never fully recovered from losing his Dad when he was young. At first he avoids his Dad's chair, but over the years he starts to draw comfort in it.
I want to be the kind of Dad that, if I was taken away, my kids would find a reassurance and comfort in knowing I'm still with them.
My Father's Chair still standing there
All alone since the long night
Now it's three years on and I still feel
He'll come home, we'll be alright
So where's this healing time brings?
I was told the pain would ease
But it still hurts like the first night
That night my brother, my mother and I
We're looking up at a distant star
And wishing we could reach that far
And back in the house
And alone for the first time
We told each other we cared
We avoided My Father's Chair
I watch my family, we hold on
We are strong and we'll be alright
The clock continues counting down, all the while
And every child will share the long night
But do the spirits meet again
Why am I still so filled with doubt
Is my soul everlasting?
And the far distant future
When I knew you'd be gone
Came too fast and stays too long
Why do they leave the weak of spirit
And take the strong?
When the world turns sour
And I get sick from the smell
And I can't find no comfort there
I climb into My Father's Chair
(R. Springfield)
Search Articles