April 25, 2007
News Titling Snafu (MSNBC & Niger Innis)
Somebody, please tell me how this can possibly happen??? Back in 2005 during the Enron scandal, MSNBC invited conservative Republican Niger Innis on to discuss "The Enron Mess". Take a look at the major error made by whomever was working the titling: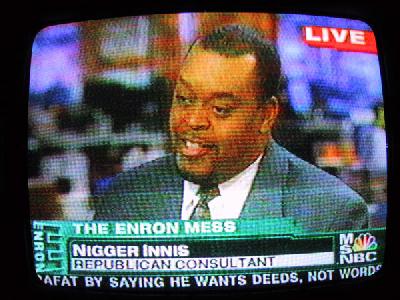 When typically they would be on this like rabid dogs, apparently not a peep was heard from The Revs Jackson and Sharpton. That sure is a head scratcher isn't it???
I've often wondered if the oft-liberal-leaning MSNBC got a free pass on this and what might have happened had this screw-up happened on Fox News?
Search Articles