March 7, 2007
My Soul Thirsts For…..1in3Trinity?
Psalm 63 was written by David when he was in the desert of Judah.
In verse 1, what did David thirst for?
"O God, you are my God, earnestly I seek you; my soul thirsts for you…"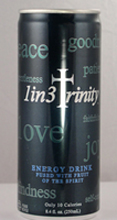 If David were in the desert of Judah today, I'm hoping he's not thirsting for America's new faith-based energy drink "1in3Trinity" — even though it's touted to be "handed down from the flourishing vines and trees of the Holy Land."
What's next?
HolyH20 bottled water?
ShemWeiser beer?
Search Articles