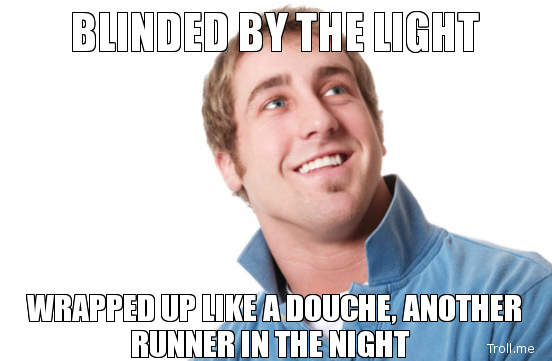 December 5, 2012
Top 10 Misheard Lyrics: Deuce or Douche?
Update December 2012:
Springsteen was recently interviewed and says he changed Manfred Mann's original lyric from "cut loose like a deuce" to "revved up like a deuce" yet admitted the reason the song went to #1 was because people heard "wrapped up like a douche". This was the one moment in the history of the universe that millions of people collectively longed to hear a song with this bold statement!
Original Blog July 2007:
According to AmIRight.com, the most misheard lyrics in a song ever is Blinded By The Light, a Bruce Springsteen Song, made popular by Manfred Mann's Earth band in the seventies.
I must admit, this is a very difficult song to figure out from verse one. I have one word of explanation: drugs.
I nearly coughed up a lung tonight reading the misheard lyrics for:
"Revved up like a deuce, another runner in the night"
Be honest. What was your version of this lyric?
I actually had it pretty close, only using "wrapped" instead of "revved". I did get "deuce" right while I think most people thought Manfred was singing about a nocturnal feminine hygiene activity.
Please enjoy my PG-13 rated, Top 10 misheard versions of this famous lyric:
10. Wrapped up like a goose, let the wind blow through my hair.
9. Lit up like an illusion in the middle of the night.
8. Rapped up like a douche, another rumor in the night.
7. Wracked up, like I knew she was a hooker in the night.
6. Red ball like a douche and throw me out into the night.
5. Wake up like a douche and go running in the night.
4. Wrapped up like you're douchin' in the middle of the night.
3. Warped up like Medusa, oh the runner in the night.
2. Grabbed up by a douche, another robot in the night.

and last but not least:

1. Wrapped up with a douchebag's aroma in the night.
Search Articles